This is the third of a 4 part look at the Baseball Hall of Fame Ballot for the Class of 2013, in which we attempt to predict the order the candidates will finish. Click here to read
Part I
or
Part II
.
By Dan Trammel
@HighwaytoHall
Rafael Palmeiro
The members of the 3000 hit/500 home run club:
Palmeiro was not considered a Hall of Famer until he hit the 3000/500 magic numbers. Fans did not line up to see him. He was never the most feared hitter on his team. In fact, the only year he finished in the top 5 in MVP voting, he still finished behind one of his teammates (Ivan Rodriguez). Tim Kurkijan explains away his lack of support by stating, "Palmeiro received MVP votes in 10 seasons, though he never finished above fifth. But consider this: In his 20 seasons, he played on a team with a winning record in only seven seasons, he made it to the postseason only twice (he never played in the World Series) and in only three of his 18 non-playoff seasons did he play on a team that finished closer than 10 games out of first place. It should not be held against him that he played on non-contending teams for many, many years."

[i]

Actually, Palmeiro appeared in the postseason three times but that is irrelevant. What Mr. Kurkijan fails to realize is that the reason Palmeiro did not receive much MVP support was not that his teams were bad, but that the MVP voters did not consider him to be valuable. In 18 of his 20 seasons, at least one of Palmeiro's teammates received MVP votes, and in no season was he the only member of his team to receive a vote.

[ii]

In the 10 seasons he received MVP votes, one of his teammates finished ahead of him 7 times. In 1997, his Baltimore Orioles team had the best record in the American League, and Palmeiro finished 13th in the voting, well behind teammate Randy Myers who finished 4th. In 1999, the Texas Rangers won the American League West and Palmeiro finished 5th with 4 first place votes, but still finished well behind teammate Ivan Rodriguez.
Kurkijan also makes a passing comment about why Palmeiro only made 4 All-Star teams by saying, "in several years, his competition at first base was [Mark] McGwire and Frank Thomas." Let's look at the American League All-Star first basemen beginning with his first year in the American League (1989), in addition to the designated hitters beginning in 1999:
McGwire and Thomas only made 2 All-Star teams together. In 1996, they were joined by Mo Vaughn and in 1997 they were joined by Tino Martinez and Jim Thome. Contrary to Mr. Kurkijan's sentiment, Thomas and McGwire did not prevent Palmeiro from playing in All-Star games. Heck, in 1992, McGwire was the only first baseman named to the team. Palmeiro was simply not a highly regarded player in his career.
What else Mr. Kurkijan? Well, "Compare Palmeiro among first basemen of all time. He has the fifth most RBIS…the fourth most home runs and the second most hits." Very impressive. Anything else? "Palmeiro is the only player ever to hit at least 38 homers and drive in at least 100 runs nine years in a row." Outstanding! But what does that mean in the era of 70-home run hitters? Let's look at his OPS+. That's his on base percentage plus slugging percentage adjusted for the park and the league in which he played. Here is how the first basemen rank (minimum 1000 career games):
That's Palmeiro's name near the bottom, tied with Mo Vaughn, and just behind Charlie "Piano Legs" Hickman. I offer my apologies to Mark McGwire for neglecting this statistic in his section (He is still not the second greatest first baseman of all time, though). Twelve of the players ahead of Palmeiro on this list are Hall of Famers. Trailing him are Eddie Murray (129), George Sisler (125), Jake Beckley (125), Jim Bottomley (125), Tony Perez (122), and High Pockets Kelly (109).
Let's next look at Palmeiro's peak, or lack thereof. WAR7 totals a player's top 7 seasons in terms of Wins above Replacement, and those seasons are not necessarily consecutive. Where does Palmeiro rank among first basemen? Here's the list:
That's Palmeiro's name at the end, beneath John Olerud and Dolph Camili. In Palmeiro's defense, his WAR7 is ahead of Hall of Famers Harmon Killebrew, Tony Perez, Frank Chance, Orlando Cepeda, Jack Beckley, Jim Bottomley, and High Pockets Kelly, but he still trails 11 of the Hall of Fame first basemen.
To recap, Palmeiro is second all-time among first basemen in hits, 4th in home runs, and fifth in RBIs. And the only Hall of Fame first basemen who rank behind him in both OPS+ and WAR7 are 3 dubious Veterans Committee selections (Beckley, Bottomley, and Kelly) and a man (Perez) selected in his 9th year on the ballot.
Regardless, a positive test result for PED-usage makes his candidacy moot.
A 5-time All-Star, 4-time Gold Glove Award Winner, and a former batting champion, Williams received 9.6% of the vote in his first year on the ballot. That total is unlikely to increase. The 1996 ALCS MVP, Williams trails only former teammate Derek Jeter in most postseason games played. However, his ALCS performances were dramatically different than his World Series performances. In 41 American League Championship Series games, Williams' stat line is as follows:
In 32 World Series Games:
Nonetheless, Williams was a part of 4 World Series Champions.
In 2002, Williams collected 11 consecutive hits, joining the following list of players as the only ones to do so:
Statistics can be twisted and used selectively enough to support many arguments. Kenny Lofton's career WAR is 64.9, good for 104th all-time, rates above Bob Feller, Dave Winfield, Eddie Murray, Jim Palmer, Duke Snider, Yogi Berra, Willie Stargell, George Sisler, Wee Willie Killer and so many more Hall of Famers to name. Lofton is not the 104th greatest player in history. But he was a good ball-player who did many things well, not enough to join our "Vada Pinson All-Stars," (see comment on Steve Finley) but enough to receive Hall of Fame votes. The fact is that Lofton was a terrific defensive player and he was one of the top, in terms of career value, leadoff hitters in history. He was not Rickey Henderson. He was not Pete Rose. He was not Tim Raines. But he got on base, stole bases, scored runs, and helped 11 teams reach the postseason.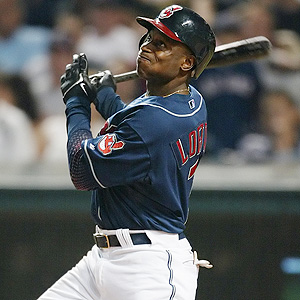 Statistics for leadoff hitters are difficult to come by, particularly since two of the best, Sliding Billy Hamilton and Dummy Hoy, played in an era from which we do not have adequate play-by-play sheets. In an attempt to handpick players with 5888 (Luis Aparicio's career total) or more plate appearances as a leadoff hitter, I have these names, minus Rickey Henderson:
This is not a complete list. There may be players I have overlooked. Regardless, these players are ranked in terms of on base percentage. Again, these statistics are strictly those acquired as leadoff hitters, so these numbers do not match career values for anyone. Lofton's run total trails only Pete Rose (and Rickey Henderson, of course), while his on base percentage lags behind Raines, Stan Hack, Rose, and Brett Butler (and of course Henderson). Lofton is ahead of several Hall of Famers and those who will receive more votes than him. His similarities to Butler are a little disconcerting. But Lofton was a very good baseball player. He will not receive enough votes to remain on the ballot, but he will not be shutout.
Long before he became the oldest player to do almost everything, Franco was stuck in the Purgatory known as Cleveland in the 1980s. He lost 6 years on Indians teams that did not finish higher than 5th place. In 1989 he escaped in a trade to Texas for Jerry Browne, Oddibe McDowell, and Pete O'Brien. He was named to the All-Star team each of the next three seasons while also winning 3 Silver Slugger Awards. He spent much of the rest of his career as a professional hitter, one who could probably still get a hit while sitting down.
Continue to
Part IV
of our series on the Baseball Hall of Fame Class of 2013.
---
[ii]
The 2 seasons in which neither he nor a teammate received MVP consideration were 1986, a season in which he only played 22 games, and 2000.