This is the second of a 4 part look at the Baseball Hall of Fame Ballot for the Class of 2013, in which we attempt to predict the order the candidates will finish. Click here to read
Part I
.
By Dan Trammel
@HighwaytoHall
Of players with a minimum of 8,000 plate appearances, here is the list of those who have a career batting average over .300, an on base percentage above .400, and a slugging percentage over .500:
The list is presented in the order in which the players retired, with those players active at the end. Edgar Martinez and Larry Walker are the first new members of the club since Stan Musial retired in 1960. Needless to say, the first 11 players on the list are in the Hall of Fame.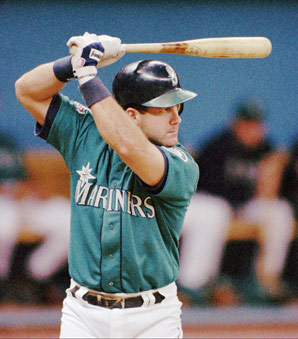 With 1,283 career walks and only 1,202 strikeouts, Martinez is one of the rare 300 club members with more walks than strikeouts. The complete list is as follows:
A 7-time All-Star, Martinez did not become a full-time player until he was 27 years old. A few more years at the beginning of his career and he would have numbers that would guarantee election. He is also hindered by the fact he spent much of his career as a designated hitter, a position which the Hall of Fame voters do not value.
McGriff never hit 50 home runs in a season. He never hit 40 home runs in a season. In 1992, McGriff led the National League with 35 homers, the lowest total to lead the National League in a non-strike season since Ralph Kiner hit 23 in 1946. Although his home run numbers may look pedestrian now after the "Juiced Ball Era," McGriff was one of the top power hitters of his time, finishing in the top 10 among all Major Leaguers in homers 7 consecutive seasons. How rare is that? Here's the list:
The list above contains twelve Hall of Famers, 4 non-Hall of Famers born before Babe Ruth, and Fred McGriff. McGriff was the last player to join this group and the first since Mike Schmidt, who in turn was the first since Hank Aaron. Not only was McGriff one of the top power hitters of his generation, he was a model of consistency. Fifteen times he hit twenty or more home runs, to join this illustrious group:
McGriff was a feared part of any lineup he was in, but never more so than when he was traded to Atlanta. In 1993, McGriff was traded from San Diego to Atlanta and his second half tear helped the Braves hold off San Francisco (who finished 103-59) to win the National League West. That season with the Braves he batted .310 with 19 home runs and 55 RBIs and led them to a 51-19 record after his arrival. In the National League Championship Series against Philadelphia, McGriff batted .435 with 4 RBIs but the Braves lost in 6 games. In 1994, McGriff batted .310 with 34 home runs before the season was called because of the player strike. McGriff led Atlanta to the next two World Series, winning one title in 1995 against Cleveland. In 50 career postseason games, McGriff batted .303 with 10 home runs and 37 RBIs.
Unfortunately, McGriff retired with 493 home runs. The strike quite possibly cost him the 7 home runs needed to reach 500. Would that have been enough to get him inducted into Cooperstown? Maybe not. But it would have given him a stronger case. The home run bonanza in the late 1990s and early 2000s make it hard to believe McGriff was a great power hitter. McGriff's vote total will rise slightly this year, but he likely won't break the 25% mark.
As mentioned above in the discussion on Edgar Martinez, Walker is 1 of 18 players in history to have a career batting average over .300, an on base percentage over .400, and a slugging percentage over .500. The 1997 National League Most Valuable Player, Walker won 3 batting titles and 7 Gold Glove Awards, while being named to 5 All-Star teams. His career WAR of 69.7 ranks 81st all-time and 52nd among position players. He has the 13th highest slugging percentage in history.

[i]

But…and it is a very large but…he played in Colorado. It doesn't matter that while playing for Montreal in the strike-shortened 1994 season, Walker batted .322 with 44 doubles and 86 RBIs in only 103 games. Many voters believe Walker's career was enhanced in the thin mountain air. His career OPS+, designed to adjust for park and league effects, is 141, tied for 69th all-time, and well ahead of Rafael Palmeiro (below, 132), Dave Winfield (130), Eddie Murray (129), and Sammy Sosa (128). Nonetheless, he didn't reach any magic numbers, his career was short by Hall standards, and he didn't win any World Series rings (despite hitting .357 against the Red Sox in the 2004 World Series).
The players with multiple 50+ homer seasons:
The players who have hit 60 or more home runs in a season:
Like other players from the "Steroid Era," Sosa is widely assumed to have used performance enhancing drugs. Unlike Clemens and Bonds, however, Sosa did not have Hall of Fame numbers prior to the period he allegedly began usage. As a result, he will receive approximately 15% of the vote.
This is Murphy's 15th and final year on the ballot, making him 1 of 35 players to fall off the ballot due to time. His vote total peaked at 23.2 % in his second year then dropped to a low of 8.5 % in year six. Last year he received 14.5 % of the vote and this time he should gain a few more percentage points.
A 2-time MVP Award winner, Murphy will join Juan Gonzalez and Roger Maris as the only multiple MVP Award winners not enshrined in Cooperstown.
In 1983, Murphy's statline was as follows:
In 1983, Murphy became the third player in history to hit 30 or more home runs, steal 30 or more bases, drive in 100 or more runs, and bat over .300 in a single season, and the first since Hank Aaron in 1963 (Ken Williams in 1922 was the first). However, Jose Canseco joined this exclusive club in 1988 and this feat was achieved 8 more times in the 1990s. It has now occurred 21 times, watering down the impressiveness of Murphy's achievement. This symbolizes much of what has hurt Murphy's candidacy. His numbers do not appear that spectacular any more. At the time of his retirement, Murphy stood 27th all-time in home runs. Of the 26 players ahead of him, 24 are Hall of Famers (Dave Kingman and Darrell Evans are the others). Twenty years later, he stands 53rd on the list.
Mattingly won 9 Gold Glove Awards, was named to 6 All-Star Teams, and took home the 1985 American League MVP Award. From 1984 to 1989, Mattingly was one of the top players in baseball:
The top WARs from 1984 to 1989 are as follows:
Unfortunately, Mattingly was unable to maintain his success, his career derailed by a back injury. Additionally, he had the misfortune of playing between Yankees dynasties, a fact not forgotten by the New York media. His only postseason appearance was in his final season. In the 5-game series loss to Seattle in the AL Division Series, Mattingly batted .417 with 6 RBIs. The Yankees would win the World Series the following season and 4 of the next 5…with Tino Martinez playing first base.
This is Mattingly's 13th season on the ballot and it looks like he may join Dale Murphy (above) on the list of players who spend the maximum number of years on the ballot without being elected. He gained 4% points last year to increase his total to 17.8%. He will probably take a small step back to 14%.
In 1999, Major League Baseball made the ridiculous decision to allow its All-Century team to be chosen by popular vote of the fans. First, a panel of experts assembled by MLB compiled a list of the top players in history. Over 2 millions fans then voted on the players using paper and online balloting. All living nominees were honored at the 1999 All Star Game and the All-Century Team was revealed during the World Series. The All-Century team was comprised of the top 2 vote-getters from each position, except outfielders (nine) and pitchers (six). A Blue Ribbon panel then added five players omitted by fan voting to create a thirty man team. Unfortunately, the panel could not correct all of the fans' mistakes (Stan Musial as the 11th greatest outfielder; Honus Wagner 4th among shortstops; Warren Spahn, Christy Mathewson, and Lefty Grove 10th, 14th, and 18th, respectively, among pitchers).
The list of 10 first basemen nominees with their corresponding vote totals are as such:
I'm not sure who Johnny Mize ticked off to be left off of this list. Anyway, aside from Buck Leonard, who was a Negro League nominee, here are the stats of the players above:
Over a half million fans believed (at least in 1999), Mark McGwire was the greatest first baseman in history. This was enough for him to finish second in the balloting. Jimmie Foxx must have rolled over in his grave.
On a side note, you may have noticed McGwire's strikingly low doubles total, an amount which is less than half as much as his home run total. Exactly how rare is that? Here is a list of the players who hit at least twice as many home runs as doubles, minimum 10 home runs:
Obviously, no one close to McGwire in total home runs achieved this feat. The number 2 man on this list was a pitcher with 121 career wins (Harshman was a pitcher as well).