This is the fourth of a 4 part look at the Baseball Hall of Fame Ballot for the Class of 2013, in which we attempt to predict how the candidates will finish. Click here to read
Part I
,
Part II
, or
Part III
.
By Dan Trammel
@HighwaytoHall
Players who will receive 3 or fewer votes
A 2-time Minor League Player of the Year but stuck behind Benito Santiago, Alomar was traded by the San Diego Padres, along with Carlos Baerga and Chris James, to the Cleveland Indians for Joe Carter in 1989. With the Indians, Alomar immediately lived up to his billing, winning the AL Rookie of the Year Award, easily outdistancing the Yankees brief sensation Kevin Maas. Alomar won the Gold Glove Award and became the first rookie catcher to start the All-Star Game. In a 20-year career, Alomar was named to 6 All-Star teams, winning the All-Star Game MVP in 1997. That season, Alomar finished 14th in AL MVP voting, batting .324 with 21 home runs and 83 RBIS, while leading the Indians to its second World Series appearance in three seasons. In the 7-game series loss to the Florida Marlins, Alomar batted .367, collecting 11 hits while belting 2 home runs and tallying 10 RBIs.

[i]

Released by the Indians in 2000, Alomar bounced around the next 7 seasons, playing for 5 teams, but never again playing more than 90 games in a season.
A look at the highest winning percentages among left-handed pitchers with a minimum of 200 wins:
Of the 13 names, there are 8 Hall of Famers, 4 pitchers not yet eligible (2 of whom will walk into the Hall of Fame), and David Wells.
Of the 27 left-handers with 200 or more wins, 10 are in the Hall of Fame. In a related note, let's look at the list of the lowest ERAs among southpaws with 200 or more wins:
As you may have noticed, 9 of the 10 names listed are in the Hall of Fame, with Wilbur Cooper being the odd man out. The only Hall of Famer who fits the above criteria that did not make the list is Herb Pennock (ERA of 3.60), a rather dubious selection by the BBWAA in 1948.
Now the list of the left-handers with the highest ERAs among 200 game winners:
We've found 3 of the non-Hall of Famers from our first table. Since the door is about to be closed on Jack Morris' candidacy in large part due to his 3.90 ERA, it is difficult to argue for Rogers, Moyer, Wells, and Pettitte. Realistically, Rogers, Moyer, and Wells never had a chance, and rightfully so. Pettitte will be scrutinized more because of his association with the New York Yankees and his postseason success.

[ii]
A winner of 2 World Series titles and a 3-time All-Star that twice finished 3rd in Cy Young Award balloting, Wells will receive a few votes, but not enough to remain on the ballot next year.
In 1998, Green clubbed 35 home runs and stole 35 bases, which makes him 1 of only 14 players in history to achieve the feat (which has been accomplished a total of 19 times). He followed that campaign with a 42 home run/45 double season in 1999, becoming the 13th player with 40 doubles and 40 homers in the same season (a club which now has 25 members who have achieved the feat a total of 35 times). That year he made his 1st All-Star Game appearance and won his only Gold Glove Award. On May 23, 2002, Green became the 14th player to hit 4 home runs in one game, on the way to a single game total base record of 19. He went on to notch his second All-Star Game appearance that season and finished 5th in the MVP Award voting, the third time he received votes.
As discussed in a previous post on Johnny Damon, Finley is a member of what we at the Highway to Hall refer to as the Vada Pinson All-Stars, comprised of players with a unique blend of speed and power that enable them to be the answer to many trivia questions. For example, 7 players in Major League history accumulated 200+ doubles, 100+ triples, 200+ home runs, and 200+ stolen bases in their careers. The list is as follows:
We have four Hall of Famers and 3 Vada Pinson All-Stars, including Vada Pinson himself. The numbers of these three players are very similar:
Pinson spent 15 years on the Hall of Fame ballot, peaking at 15.7%. Damon should receive around 15% as well. Finley, an underappreciated player throughout his career, will receive a few votes, but less than the necessary 5% to remain on the ballot next year.
A strong clubhouse presence, Sanders spent 8 of his 17 seasons as a Cincinnati Red, and then played for 7 more teams, never again staying in the same place for more than 2 years. Appearing in the postseason 6 times, Sanders represented 5 different teams, winning the World Series with the Arizona Diamondbacks in 2001.
In 2006, Sanders became the fifth member of the 300 home run/300 stolen base club, beating Steve Finley by 4 days.
Players who will not receive any votes
A 2-time all-star, Cirillo was the first player in MLB history to tally 45 or more doubles in a season in each league. He also shares the Major League record of 99 consecutive errorless games at third with John Wehner.
A 17-year veteran, Clayton played for 11 Major League teams. He batted .346 for the St. Louis Cardinals during the 1996 playoffs, collecting a hit in each of the 7 games in which he appeared over two playoff series.
Drafted in the 58th Round by the Kansas City Royals in 1987, Conine went on to become the face of the Florida Marlins, helping them to two World Series Championships. A 2-time All-Star, Conine was named All-Star Game MVP in 1995.
One of 15 pitchers to have appeared in 1,000 career games, Hernandez ranks 13th all-time on the career saves list with 326.
A 16-year veteran, Klesko belted 10 home runs in 62 career postseason games. He batted .313 in the 1995 World Series against the Cleveland Indians, with homers in Games 3, 4, and 5. In 2002, he reached base safely in 56 consecutive games, which, at that time, was the 7th longest streak since 1900. A look at the complete list:
Jose Mesa
A member of the 1,000 games pitched club with Hernandez, Mesa totaled 321 career saves over the course of a 19-year career. His 4.36 ERA is the highest among all members of the 300 save club (Todd Jones is second at 3.97). Mesa's blown save in the 9th inning of Game 7 of the 1997 World Series helped the Florida Marlins' to their first World Series Championship.
A 2-time All-Star, Sele finished 3rd in Rookie of the Year balloting in 1993 and 5th for the 1999 American League Cy Young Award. A 148-game winner, Sele was 0-6 in 7 career postseason starts.
Major League Baseball's all-time holds leader, Stanton pitched in 1178 games, trailing only Jesse Orosco on the career list.
Known most for helping the LSU Tigers to the 1993 National Championship, Walker played 12 years in the Major Leagues, batting .289 and collecting 1,316 hits. He batted .370 with 2 home runs in Boston's 7-game series loss to the Yankees in the 2003 American League Championship Series.
White's injury-hampered career saw him bat .284 over 15 seasons with 7 teams. As a rookie in 1996, White ruptured his spleen while making a diving catch of a Larry Walker line drive.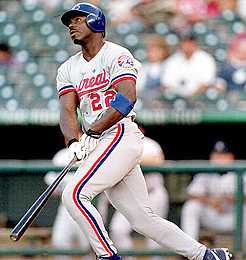 Williams started game 1 of the 2004 World Series and gave up 7 earned runs in 2.1 innings, but inexplicably did not take the loss as the Cards tied the game at 9 in the 8th inning, before losing 11-9. He went 3-1 in 30 games for the 1993 World Champion Toronto Blue Jays.
Back in 2003, Seth Davis wrote a column for SI.com in which he stated Jerry Tarkanian should never be enshrined in the Hall of Fame, in short, because "he cheated." Recently, he reassessed his position. "No. I don't still feel that way. I believe Tark should go into the Hall of Fame. The reason for my switch has much to do with the passage of time. In the decade that has passed since I wrote those words, I've learned a lot about the totality of the historical record, and while I still don't like the way Tarkanian always fell back on the everybody-did-it defense, there is much truth to his argument."

[iii]
Eventually, the Baseball Hall of Fame voters will come to agree with Davis, if not due to pressure from fans, than due to pressure from the people who run the Hall of Fame museum itself. The Hall of Fame is a museum documenting the history of baseball. It will be impossible to leave out an entire era, or pick a select few to represent the era. On next year's ballot, Tom Glavine, Greg Maddux, and Frank Thomas will all be inducted. In 2015, Randy Johnson and Pedro Martinez will join the club. In 2016, the Hall will welcome Ken Griffey, Jr. But the Class of 2013 will feature no modern-era inductees. Some of the players we have discussed will be inducted over the next few years, namely Biggio and Bagwell in 2015, but for now, the "Steroid Era" will remain unrepresented.
---
[i]
In what may have been the greatest World Series performance by a pair of catchers, Florida's Charles Johnson batted .357 with 10 hits.
[ii]
For the record, Glavine's career ERA is 3.54 and Randy Johnson's is 3.29.