By Dan Trammel
@HighwayToHall
While discussing Clemson T/G Brandon Thomas at the Senior Bowl last week, MMQB writer Greg A. Bedard commented, "His smart, savvy and tough play reminds me a bit of future Hall of Fame guard Brian Waters."
We at the Highway to Hall love such remarks. Let's take a moment to discuss Waters' Hall of Fame case.
Waters was a tight end and defensive end in high school in Waxahachie, Texas. At North Texas, he played tight end his first 3 seasons, catching 86 passes for 975 yards and nine touchdowns, including a team-leading 28 receptions in 1996. Before his senior season, a new coaching staff switched Waters to defensive tackle, where he was named 1st Team All-Big West.
Undrafted, Waters attended training camp with the Dallas Cowboys as an H-back, but was released on the final cut-down day.
He signed with the Chiefs, who tried him out as a center. Kansas City sent him to NFL Europe to learn the position, and he started every game at center for the Berlin Thunder in 2000.
He spent the 2000 NFL season playing special teams and learning the nuances of the center position from Tim Grunhard, while serving as the backup to Casey Wiegmann.
After Wiegemann underwent an emergency appendectomy on August 27, Waters was inserted into the starting lineup for the 2001 season opener. But he and quarterback Trent Green got crossed up twice, each time losing the ball. One fumble cost the Chiefs an opportunity at a short field goal while the other put Oakland in position to score in what turned out to be a 27-24 Raider victory. Wiegemann got healthy in a hurry and Waters was again relegated to a backup role.
But the Chiefs experienced numerous injuries along the offensive line that season. When Victor Riley was injured, left guard Marcus Spears was moved to right tackle to replace him. Donald Willis was inserted into the lineup as the left guard. But when he went down with a calf strain, Waters replaced him as the starting left guard. In his first game, Waters was matched up with Hall of Famer John Randle. The Chiefs rushed for 188 yards on 44 carries, with Priest Holmes totaling 120 yards on 26 carries, becoming only the 2nd (of 4) 100-yard rusher against the Seahawks that season (Stephen Davis, Terrell Davis, and Holmes again also achieved the feat). When Waters was inserted into the starting lineup, the Chiefs were 2-7, but they went 4-3 the rest of the way and Holmes won the rushing title.
Following the season, the Chiefs signed Hall of Famer Willie Roaf to play left tackle. They moved John Tait to right tackle. They were already set with Will Shields at right guard and Casey Wiegmann at center. With Waters as the new left guard, the Chiefs boasted one of the top offensive lines in the NFL.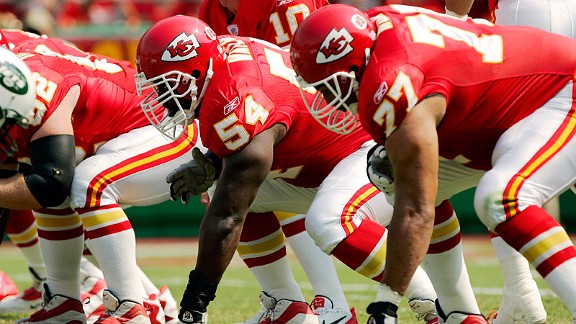 Between 2002 and 2005, the Chiefs offense ranked as follows:
During this time, the Chiefs defense failed to carry its weight, and Kansas City only reached the playoffs once, a 38-31 loss to the Colts in 2003.
In 2006, following the retirement of Roaf, the Chiefs slipped to 15th in points and 16th in yards. In 2007, following the retirement of Shields, the Chiefs plummeted to 31st in both points and yards.
Waters remained with Kansas City through the 2010 season, but the Chiefs did not finish higher than 14th in points or 12th in yards in any of the subsequent seasons.
In 2011, Waters moved on to
New England
, where he helped the Patriots reach the Super Bowl and he finally enjoyed some playoff success. The Pats went 13-3 and its offense ranked in the top 3. But the season before, the Pats finished 14-2 and ranked 1st in points, and a season later, the Pats finished 12-4 and ranked 1st in points. So it is difficult to see if Waters was much of a difference maker. He sat out 2012 before signing with the Cowboys for the 2013 season. After 7 games, he tore a triceps muscle and missed the remainder of the season.
In his career, Waters was named to 6 Pro Bowls and was selected a 1st Team All-Pro twice. He paved the way for eight 1000-yard rushers. He was also named the Walter Payton Man of the Year in 2009 for his excellence on the field combined with his humanitarian efforts away from it.
Let's now look at the modern-era guards currently enshrined in
Canton
:
| | | | | |
| --- | --- | --- | --- | --- |
| | | 1st Team All-Pro | 2nd Team All-Pro | |
| | | | | |
| | | | | |
| | | | | |
| | | | | |
| | | | | |
| | | | | |
| | | | | |
| | | | | |
| | | | | |
| | | | | |
| | | | | |
| | | | | |
| | | | | |
With only two 1st or 2nd Team All-Pro selections, Waters trails every man on this list. Only twice was he considered among the top 4 players at his position.
And although Little and Grimm were named to fewer Pro Bowls, they were both key members of dynastic championship teams. Waters never won a Super Bowl. Although this is true of several players listed above, Waters failed to achieve the accolades of the others.
And his failure to appear on the All-Decade Team will pretty much seal his Hall of Fame fate. 35 guards have been named to the All-Decade teams, of which 16 are enshrined in Canton. The only 2 to overcome this obstacle were Mack and Jones, who were inducted in their 16th and 19th years of eligibility respectively.
Two things work against Waters. First, for 4 seasons the Chiefs possessed one of the top offenses in football. During those years, the presence of Roaf and Shields overshadowed Waters. And when the Chiefs lost those two players, Kansas City's offense struggled.
Second, Waters entered the NFL as an undrafted free agent without a position. Let's look at the above players and when they were selected in the NFL or AFL Draft:
The list is dominated by 1st Round picks, and only Little, who failed to be drafted, was not selected among the top 78 picks. I'm not sure what this tells us. Perhaps NFL scouts are terrific at evaluating guards. Or, similar to the difficulty preseason unranked college football teams face in climbing the polls, it is harder for players who enter the NFL with zero fanfare, particularly those who play a position without statistics, to garner the respect of outside sources. Either way, it wasn't until his third season as a full-time starter, and fifth season overall, before Waters earned Pro Bowl honors. For a player who "only" had 10 seasons as a full-time starter, that is difficult to overcome.
To make a Hall of Fame argument for Waters, one has to contend, similar to Bert Blyleven's supporters, that everyone who saw him play missed how great/dominant he was. But unlike Blyleven, it is next to impossible to support that argument when the man played a position that lacks statistics. And needless to say, one cannot support Waters' candidacy until his more celebrated contemporaries are enshrined, namely Shields, Alan Faneca, and Steve Hutchinson. When that happens, if anyone brings up Waters' name, Steve Wisniewski, Jerry Kramer, Bob Kuechenberg, Walt Sweeney, and Ed Budde will join the discussion.
Frankly, there just isn't enough room in the Hall for all of these guards.
So, no, sorry Mr. Bedard, Brian Waters is not a future Hall of Famer.